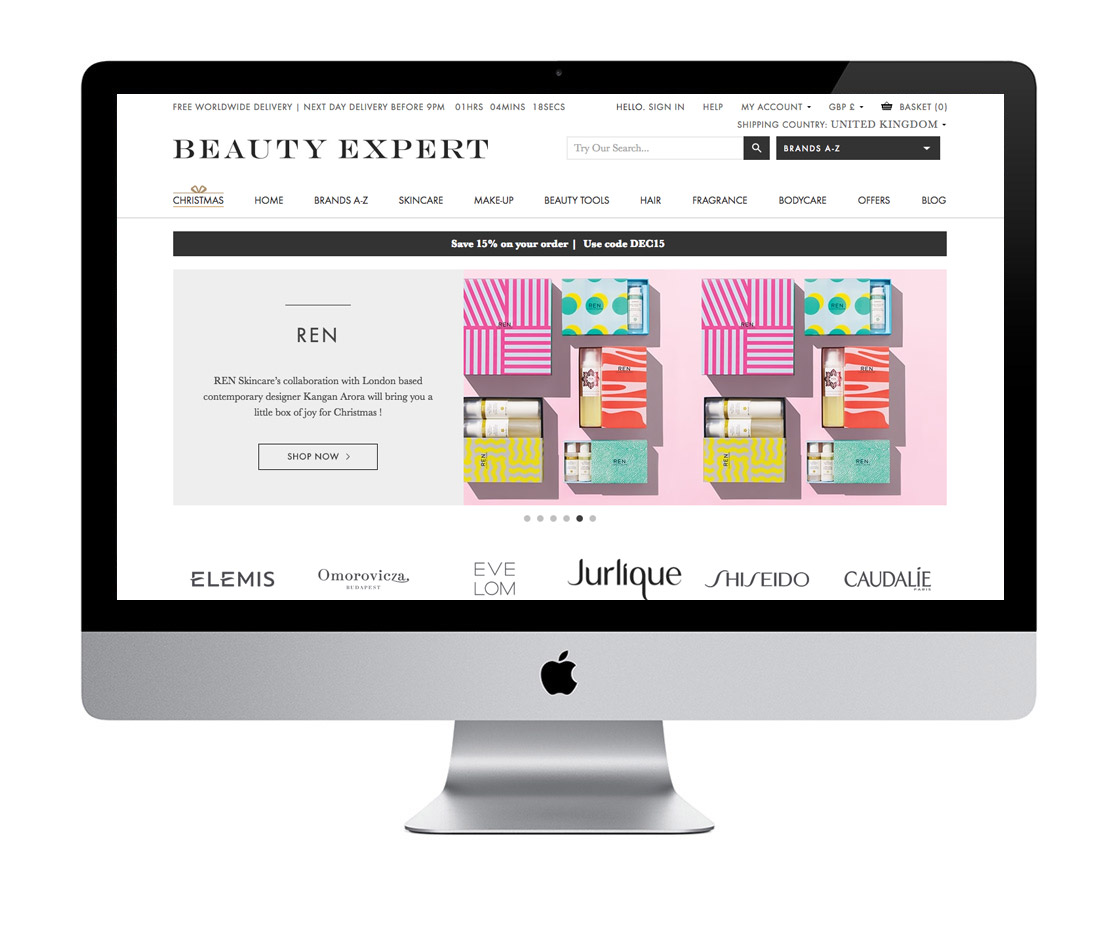 Beauty Expert – Case Study
A top performer in the female beauty market needed to stay in front of customers amid increased competition from rival brands.
Beauty Expert was a seasoned retailer springing from printed catalogue and magazine advertising. When the brand began to market their products on the web they found themselves in new territory and lacked the knowledge and experience to make it work. Like many clients we speak to, the real objective for the brand was in maximising the revenue from online activity such as Pay Per Click advertising (PPC), Search Engine Optimisation (SEO) and email marketing as well as Social Media. The key focus for the project was to get the brand running online with a consistent appearance across all aspects of online marketing to maximise profit.
The Work
As with all online marketing projects the website's design and coding needs to be looked at first. Before embarking on an online marketing strategy which could see many weeks of work on traffic generation it is vital that the website that will receive visitors is functioning as best it can. Every element needs to be reviewed from a visual design and usability viewpoint to conversion and merchandising. Google Analytics and sales reporting allow speed bumps to be ironed out and points where customers tend to drop-out during the purchase process can be fixed.
With a better performing website the focus turned to driving traffic to the site. SEO was of particular interest to the company due to the fact that marketing budgets were relatively low. Therefore it was decided that having the ability to attract visitors without paying for them should be high on the list of priorities. The website coding, page structure, sitemap and on-page text were all improved to allow the website to be ranked more highly for key search terms by Google.
PPC traffic was a second focus of the project. Careful keyword research was conducted using of Google Analytics and internal reporting systems to build a clear picture of the website's performance. It is vital to properly understand how a website performs and what products it converts more easily. As an example, driving traffic from a particular product keyword to a website that often fails to convert sales for the same product will always be an unprofitable activity. Careful analysis of some core product categories and brands highlighted those that convert well online. These became the targets for the PPC activity for which enticing advertising text and keywords were produced. The PPC activity was then activated and constant monitoring was carried out to ensure advertisement performance and cost per sale metrics improved over the following months.
Email marketing was the subject of a complete overhaul with new email templates created to better grab attention, promote best selling or new products and to encourage clicks. More emphasis was placed on the email platform itself with an improved offering being selected allowing for clever A/B testing and improved analytics.
The Results
The improvement of the checkout process as well as the clearer messaging around the website made a considerable impact to the orders being taken online. The website immediately began to perform better with an increase in conversion rate of 32%.
SEO changes started to show positive results in just two weeks with improved rankings for the brand's keywords. Traffic flow from new and historically low-performing keywords went through the roof to help the overall revenue generation increase over the course of the year.
PPC advertising was also an instant success with considerable traffic being generated at a very low cost per acquisition (CPA). The campaigns overall saw an average CPA of £1.95 for PPC traffic in an extremely competitive marketplace. With improved layout on the site to allow more products to be added to the basket without diverting customers away from their normal flow, average basket values rose to £52 and with a healthy margin meant that PPC activity was an very lucrative. The performance and returns were so strong that the campaign spend was continually increased over the year to increase traffic by more than 50% of previous figures.
Email marketing was another success for the overall online marketing project. The automatic A/B testing of products and text ensured that the most successful composition of content was used as the actual release of emails progressed. This allowed the company to generate far higher returns from each email sent.
Social media focus allowed the brand to hold a dialogue with customers who wished to share their experiences and discuss products within a community. This reflects the basic principle of social media which is to embrace your audience in an environment away from your core "outlet". Successful social media gives brands the opportunity to engage effectively and promote new products to more vocal users who in turn will advertise you to their friends. The campaign drove significant traffic to the site from Facebook and Twitter with promising conversion rates.
The online performance of the brand improved hugely with a boost to traffic and conversion rates. The increase in profit  easily paid for the cost of the activity allowing the brand to grow their online operation.
Client

Beauty Expert

Tags

Branding, Consultancy, Design, Email Marketing, PPC, SEO, Twitter Management, Web Development

URL View Project