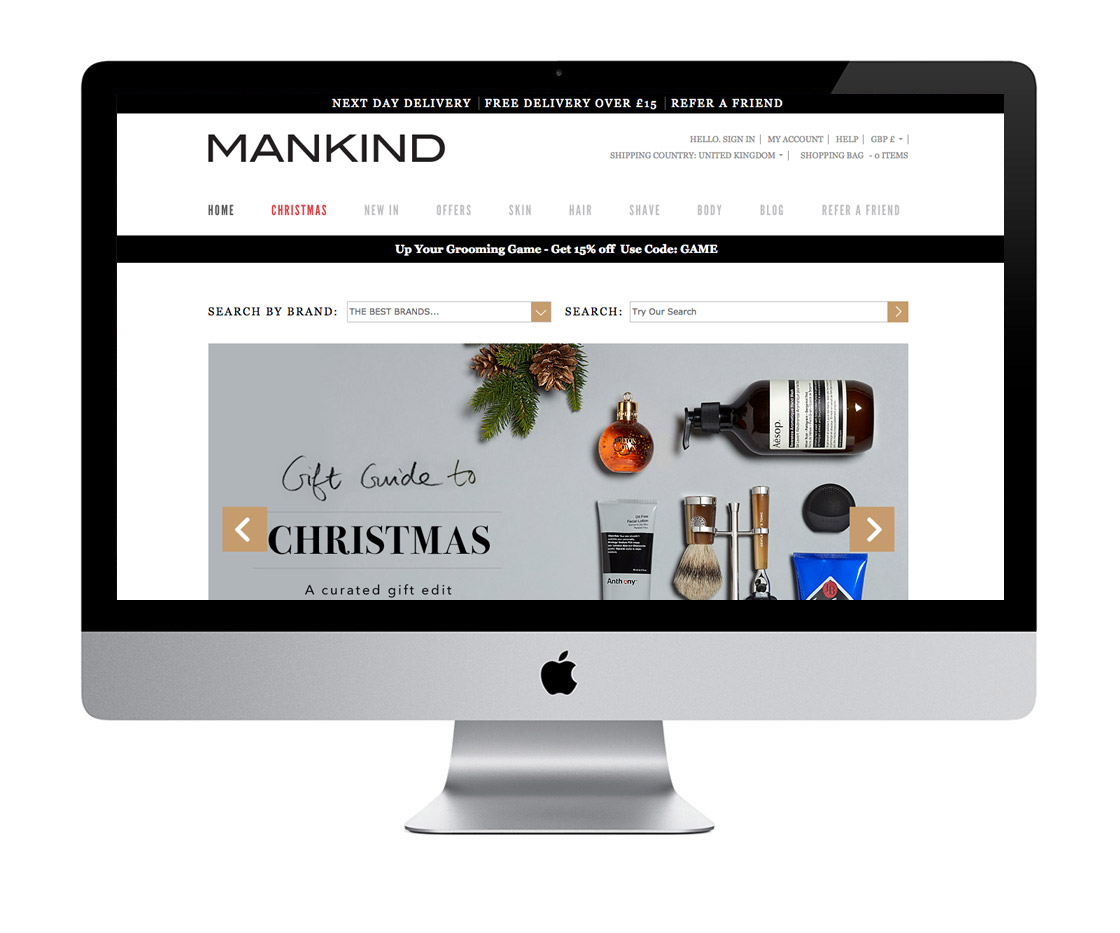 Mankind – Case Study
The leading brand in the male grooming market needed to stay ahead in the search engines and maximise the returns from email marketing and social media.
Mankind was an experienced retailer who broke onto the scene through catalogue and print advertising. When they began to sell their products online they were in new territory and they needed assistance. Like many clients we have worked with, the focus was on maximising the returns from internet based activity such as Pay Per Click advertising (PPC), Search Engine Optimisation (SEO) and email marketing as well as Social Media. The project's key focus was to get the brand running online with a structured and consistent appearance across all areas of online marketing.
The Work
The website design and the underlying code was the first focus. There is no point embarking on an online marketing strategy if the website that you are driving traffic to is not up to scratch. Everything was examined from a graphic design and usability perspective to conversion and merchandising. Using Google Analytics and internal sales reports the bottlenecks and drop-offs in the customer journey were resolved and improved messaging and conversion driving incentives were added.
With a better looking and more considered website the attention turned to driving traffic. SEO was a primary target for improvement since the marketing budgets were not limitless and the ability to bring in visitors without paying for them was key. Following an audit of the website coding, structure and on-page content, changes were made to ensure the website would rank more highly for key search terms.
Paid traffic was another focus which was not being utilised by the business. Through careful keyword research, use of Google Analytics and important internal data, a clear picture of the company's successes was formed. It is always important to understand in what ways a website already performs well because driving traffic to a website that fails to convert sales for particular products will never be a profitable activity. Through careful analysis some core product categories and brands were highlighted that convert well. These formed the targets for the PPC campaign for which engaging advertising text and considered keywords were created. The campaign was then switched on and constant monitoring carried out to ensure ad performance increased and cost per sale came down as the campaign matured.
Social media activity was non-existent aside from where customers were already talking about the brand themselves. This was a clear signal that the company was doing exceptionally well but were simply not taking advantage of the reputation they had. Facebook and Twitter profiles were created which allowed the brand to communicate with it's audience and encourage interaction.
Finally email marketing was the subject of a complete overhaul with new email templates created to better grab attention, promote best selling or new products and to encourage clicks. More emphasis was placed on the email platform itself with an improved offering being selected allowing for clever A/B testing and improved analytics.
The Results
The smoothing out of elements in the checkout process as well as the clearer sign posting of next actions made a dramatic impact on the ability for customers to complete their orders. The website immediately began to perform better with an increase in conversion rate of 35%.
SEO changes took hold within three weeks with improved positions for the brand's top performing keywords. Interestingly new keyword niches were discovered from within Google Analytics and when these were built into specific landing pages and content of category and product pages were amended to match the brand saw a flow of new traffic which it was not capturing before.
PPC advertising was an instant success with huge amounts of traffic being generated at a very profitable cost per acquisition (CPA). With an average CPA of £1.80 for PPC traffic in a very competitive market the company was seeing great returns. An average basket value of £64 and a strong margin meant that PPC activity was an instant success. In fact the performance and returns were so strong that the campaign spend was continually increased over the period of 6 months with a huge positive impact on the traffic to the site.
Social media activity allowed customers to share experiences and discuss products within a community controlled by the brand. This is vital since it gave the brand the opportunity to engage effectively and promote new products to vocal users. The campaign was always seen as a branding exercise as opposed to a large traffic or revenue generator, however, after a number of months there were significant visits originating from Facebook and Twitter pages with conversions helping to pay for the activity.
Email marketing was another massive improvement. Over time the automatic split testing of products and messaging ensured that the most successful combinations of content were used as the sending of the campaigns progressed. This alone allowed the company to generate far higher returns from each email sent.
The overall online performance for the brand improved hugely with a boost to traffic numbers and conversion rates. The improvements more than paid for the cost of the activity and the performance improvements remained somewhat exponential due to the high repeat custom levels.
Client

Mankind

Tags

Branding, Consultancy, Design, Email Marketing, Facebook, PPC, SEO, Twitter Management, Web Development

URL View Project