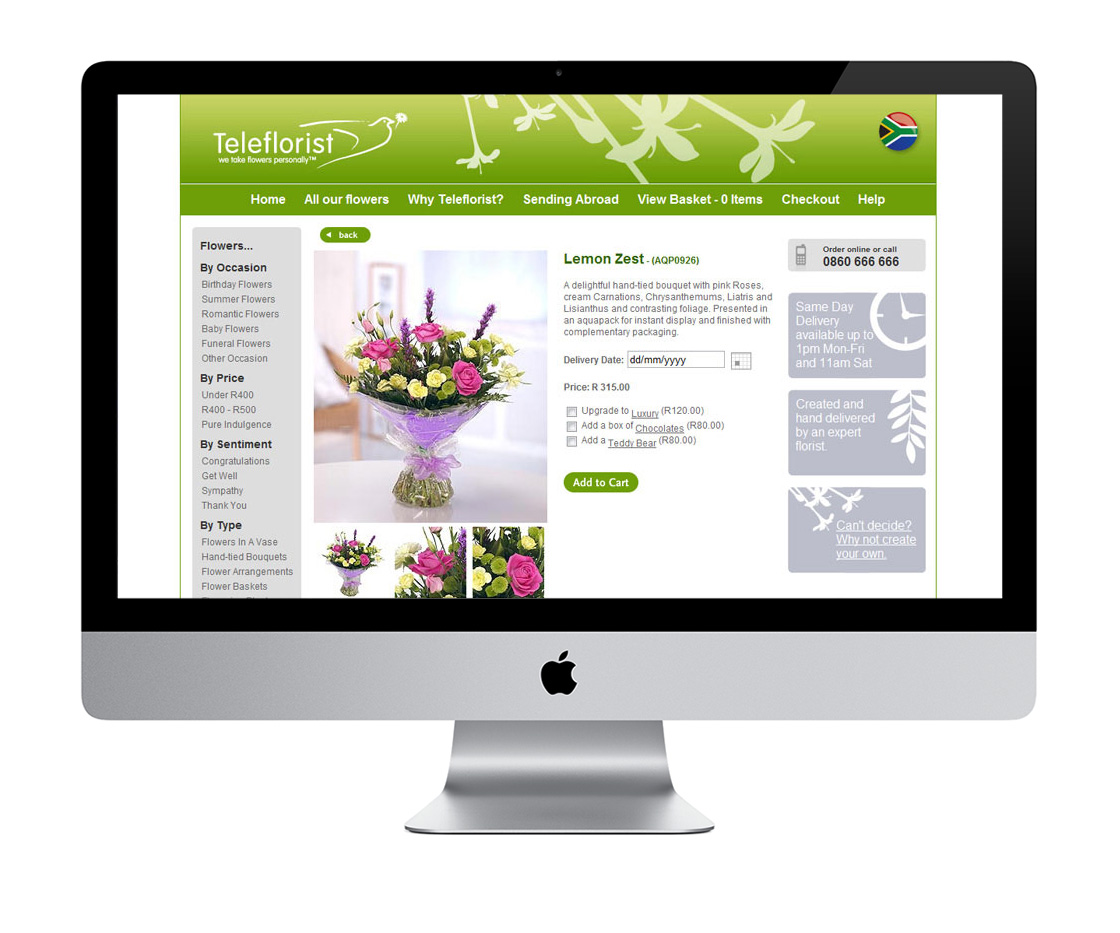 Teleflorist – Case Study
Teleflorist needed a new website design that would support their business strategy, marketing and sales objectives.
Teleflorist is a major player within the flower industry, taking a majority market share even above Interflora in the UK. Operating online and via 1,500 outlets throughout the UK alone, Teleflorist provides an online order service and is responsible for the delivery of hundreds of thousands of flower bouquets every single year. Teleflorist gained industry approval and recognition from the market press back in 2007 for a viral campaign for "Real Floristry".
The Work
Although it was a major online player, Teleflorist had become outdated and was struggling to retain its customers. The website had been updated once in five years and was suffering from being encased in a rigid CMS from their incumbent web agency. The design of the site was looking dated and customers were being sucked up by new competitors who had entered the arena with a more aggressive online strategy. The company was losing market share and decided that they required a website that was not only more modern but that also re-established its name and reputation as a major player in the flower market.
Through extensive market research, usability study and creative redesign we refreshed the website and ensured that it was rebuilt on Sellerdeck, a flexible yet sturdy ecommerce platform. Working closely with Teleflorist's board, internal teams and customers and working to a very tight budget and timeframe, the site was relaunched with a fresh look to start reclaiming its stake as the UK's largest flower relay business.
From an online marketing perspective, a full site audit was conducted which focussed on web analytics data to determine where online users were coming from and in the case of search, what they were typing into search engines. This painted a picture of which search terms were most successful for the company. However, this does not automatically mean that they are the most searched terms in relation to flower purchases. Focus was then turned to generic keyword research to understand the search volumes for hundreds of search terms and keywords. With these two approaches it was possible to see the popular search terms that the website was not ranking for and therefore the amount of traffic that was being lost.
The website content was then altered to better target the high volume search terms which the brand did not appear for with additional pages and crafted text being added. This allowed Google to match widely used search terms with content on the website where before there was no link.
A good example of the approach here was how the site targeted popular occasions. "Mother's day flowers" was a very popular search phrase for which the brand did not appear in the search rankings and thus attracted absolutely no traffic. Additional landing pages were created which focussed on many different occasions with information about their origin and considered text on the page. This also provided a very targeted landing page for paid advertising (PPC).
The keyword and search term research conducted for the SEO review was crucial in constructing a successful PPC campaign. Ad text was written that engaged the user and encouraged clicks whilst ensuring that pricing was present to dissuade clicks from users who wanted to spend less than the lowest product cost. All of the popular occasion specific search terms were linked through to their respective landing pages which meant there was high relevance between the destination page and the text within the advert helping to boost quality score.
The Results
Due to the updated designs and slicker ecommerce system, sales increased from the second it launched. As a result Teleflorist's position within the market, and in the search engines specifically, improved and continue to do so each month. Importantly, with an increased focus on online marketing including email, Teleflorist have been able to grow their customer base as the new look and greatly enhanced usability of the site has encouraged more people to order flowers from them.
Client

Teleflorist

Tags

Branding, Consultancy, Design, Email Marketing, PPC, SEO, Web Development